MAJOR ARCANA:
use CTRL F to find the card you're looking for!
O: THE FOOL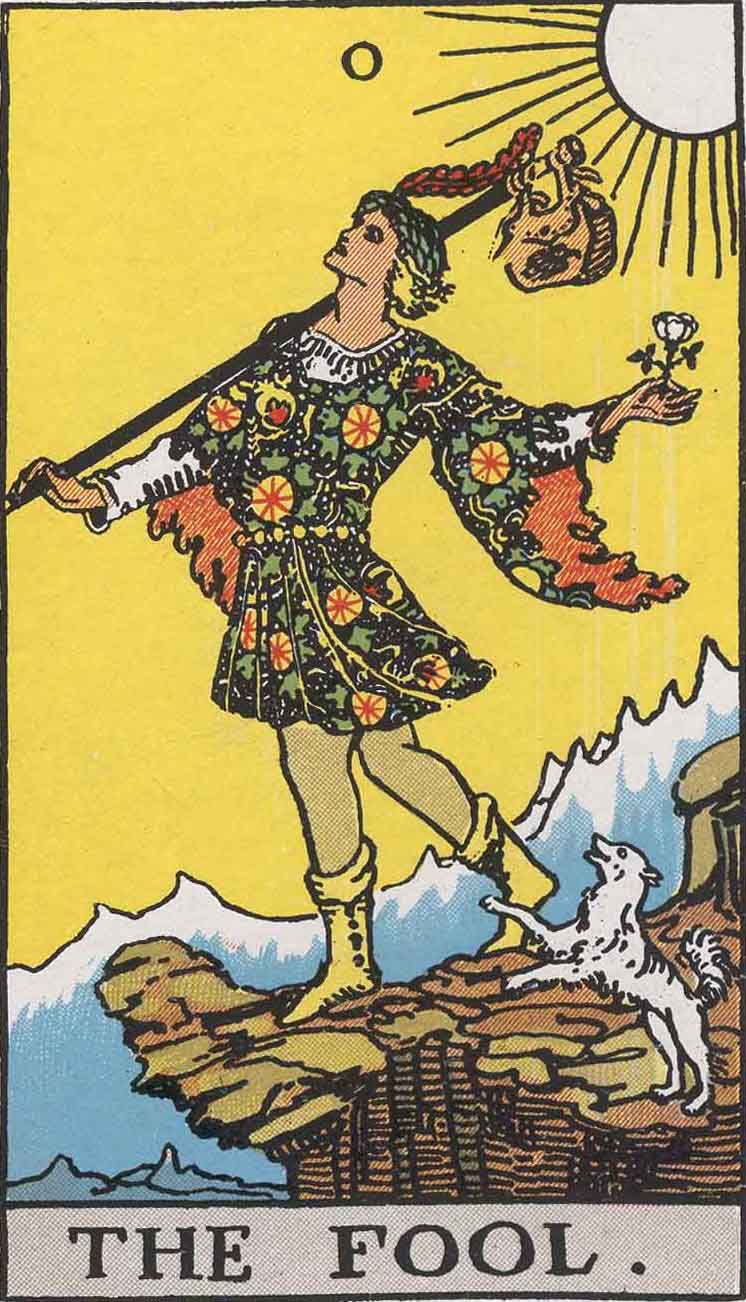 UPRIGHT:
new beginnings

entering a new phase,starting something new, expanding horizons and heading out into the unknown

spontaneity

living in the moment, letting go of expectations, acting on impulse, feeling carefree

faith

letting go of worry and fear, feeling protected and loved, recapturing innocence, believing

embracing folly

accepting your choices, taking the "foolish" path, staying true to yourself, trusting your heart
infinite potential

represents complete faith that life is good and worthy of trust
elieve in yourself and follow your heart no matter what
REVERSED:
recklessness, naivety
foolishness
risk-taking
acting without regard for the consequences
being inconsiderate
I: THE MAGICIAN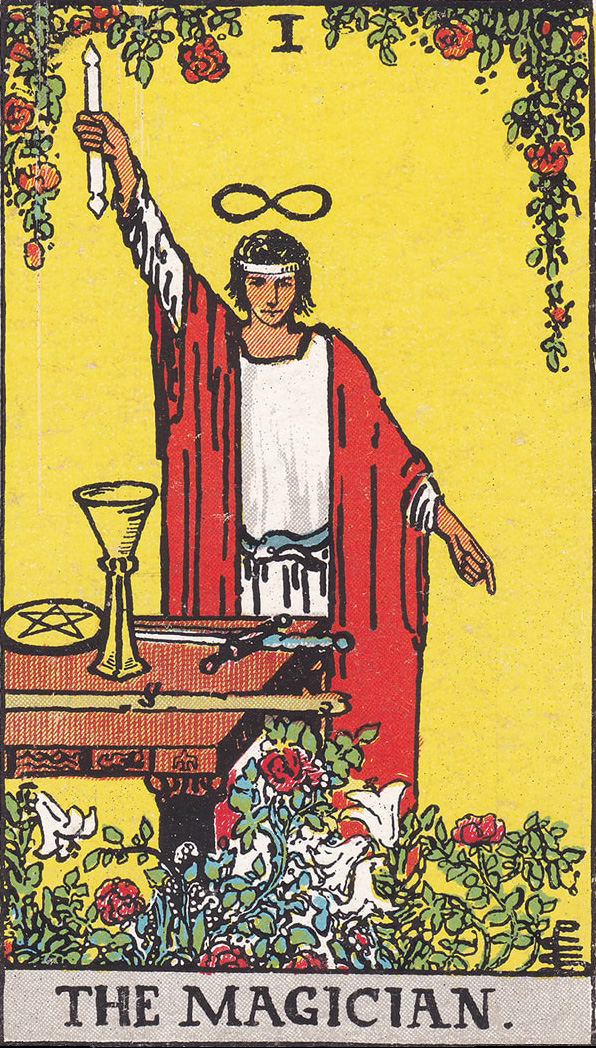 UPRIGHT:
power, action and resourcefulness

doing what needs to be done.
realizing your potential, making what is possibly a reality by using your talents

conscious awareness

knowing what you are doing and why, understanding your intentions, examining the facts

concentration

having singleness of purpose, being committed, setting aside distractions to focus on a goal

power

making a strong impact, having vitality, feeling vigorous and creative

manifestation, achieving
not being afraid to act

believes in himself and is willing to put that belief to the test
knows exactly what he intends to do and why.
no hesitation because he understands his skill and the situation completely.
determination, focus and willpower to make the impossible happen

a signal to act and act now, provided you understand what you want and you are committed to getting it.
REVERSED:
illusions; deception, trickery and cunning.
being out of touch with reality
being or feeling ungrounded
manipulation, poor planning, latent talents
II: THE HIGH PRIESTESS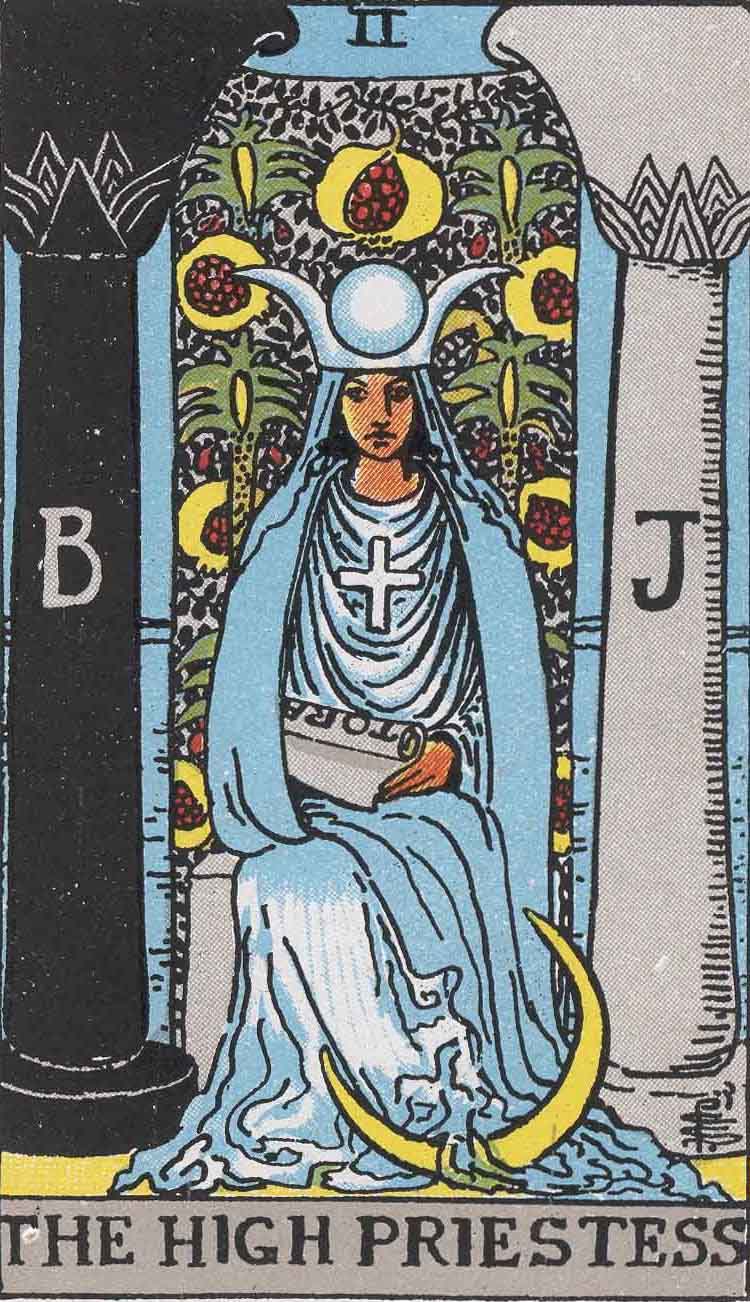 UPRIGHT:
mystery, intuition, subconscious mind and higher powers.
inaction

withdrawing, allowing events to proceed without intervention but remaining receptive to influence.
becoming calm and passive. waiting patiently
a time of waiting and allowing.

unconscious awareness

using your intuition, trusting your inner voice.

seeing potential

understanding the possibilities and remaining open to them, seeing hidden talents, allowing what already exists to bloom.

sensing the mystery

looking beyond the obvious, remembering something important, seeking what is concealed.

inner growth

poses a challenge for you to look deeper and asks you to recall the vastness of your potential and the unlimited possibilities you hold within yourself
REVERSED:
repressing feelings
feeling out of touch with your inner voice / instincts. denying them.
ignoring your intuition
hidden agendas
extreme shyness or over-confidence
superficiality and disclosure of secrets.
III: THE EMPRESS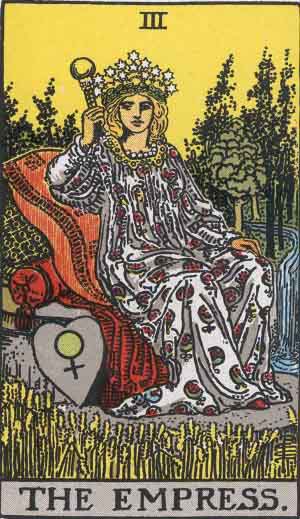 UPRIGHT:
femininity, beauty, fertility
motherhood

nurturing and caring for others, cherishing the world, expressing tenderness

welcoming abundance

enjoying extravagance, receiving lavish reward, having more than enough

experiencing the senses

focusing on the body, appreciating beauty, feeling vibrant and healthy, doing physical activity, experiencing and giving pleasure

responding to nature

embracing the natural, feeling connected to the Earth

a mother figure
creation
fostering happiness
REVERSED:
smothering love
inserting yourself into other people's lives
stifling creativity, creative block
dependence on others
famine, drought. neglected land.
living through your children or empty nest syndrome
vanity
feeling useless
a lack of support or love, infidelity.
IV: THE EMPEROR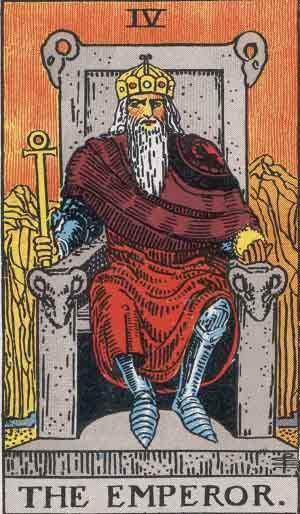 UPRIGHT:
emphasizing structure, a solid foundation.

coordinating and creating order out of chaos, providing shape and form, being organized, applying reason, sticking to a plan

fatherhood, a father figure

setting direction and tone, bringing security and comfort.

exercising authority

taking a leadership role, exerting control, being in a position of power and strength, setting direction. fostering discipline and loyalty

regulation

establishing law and order, following a regimen
REVERSED:
tyranny, domination and excessive control. uncompromising authority.
being rigid and inflexible
unbridled ambition
loss of control
obstruction
misuse of power
V: THE HIEROPHANT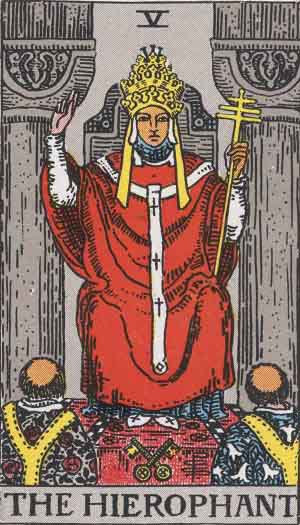 UPRIGHT:
religion. tradition, belief
getting an education

pursuing knowledge and becoming informed, seeking a deeper meaning, finding out more

having a belief system

sharing a cultural heritage, honoring ritual and ceremony, following a discipline, knowing where to put your faith

conformity

following the rules, staying within conventional bounds, adapting to the system, doing what is expected of you
sticking to what is known
not rocking the boat

identifying with a group

being committed to a cause, working as part of a team, feeling loyal to others
REVERSED:
rebellion, challenging the status quo as a result of over-restriction
losing control
striking out against authority, rejecting your faith
ejection of the establishment
expulsion, excommunication
VI: THE LOVERS
UPRIGHT:
love, union, values, alignment and making choices.
relationships, relating to others

establishing bonds, acknowledging kinship, sympathizing with another, making a connection, intimacy and harmony.

sexuality

experiencing desire, opening to another, responding with passion, feeling attraction

establishing personal beliefs

figuring out where you stand, but staying true to yourself. making up your mind

determining values

struggling with temptation, choosing between right and wrong or facing an ethical choice. finding what you care about.
REVERSED:
disharmony, imbalance, a misalignment of values
conflict in relationships
immaturity
possessiveness, infatuation, obsession.
lust rather than love.
bad choices, indecision, temptation and weakness.
a lack of trust
separation
VII: THE CHARIOT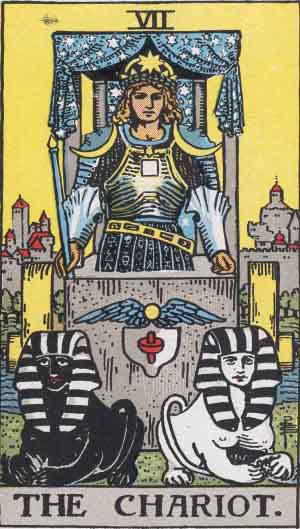 UPRIGHT:
control and willpower, assertion, determination.
achieving victory

reaching your goal, dominating, coming out on top and beating the competition.

using your willpower

being determined to succeed, rising above temptation, not getting distracted from your goal and achieving it. sustaining effort, concentrating. having a set direction.

asserting yourself

knowing who you are. establishing an identity, making a name for yourself. moving with confidence, having faith in yourself.

achieving hard control

mastering your emotions, curbing your impulses and maintaining discipline. showing authority.
REVERSED:
a lack of control and direction. aggression.
ambition, but at a cost. obsession with your goal
lack of direction (restlessness)
stress, quarrels, accidents, delays.
VIII: STRENGTH:
courage, compassion.
showing strength

achieving hard control
knowing you can and will endure, feeling unshakeable resolve, taking heart despite setbacks.
bravery
fortitude

patience

dealing calmly with frustration, maintaining composure.

being compassionate

tolerance, empathy. accepting and forgiving imperfection.

achieving soft control

persuasion and influencing others, guiding them indirectly. tempering force with benevolence, demonstrating the strength of love.
REVERSED:
insecurity, weakness, self-doubt.
a lack of self discipline
forgetting happiness
not knowing when to stop
cruelty
disregarding the well-being and feelings of others to achieve your desires
IX: THE HERMIT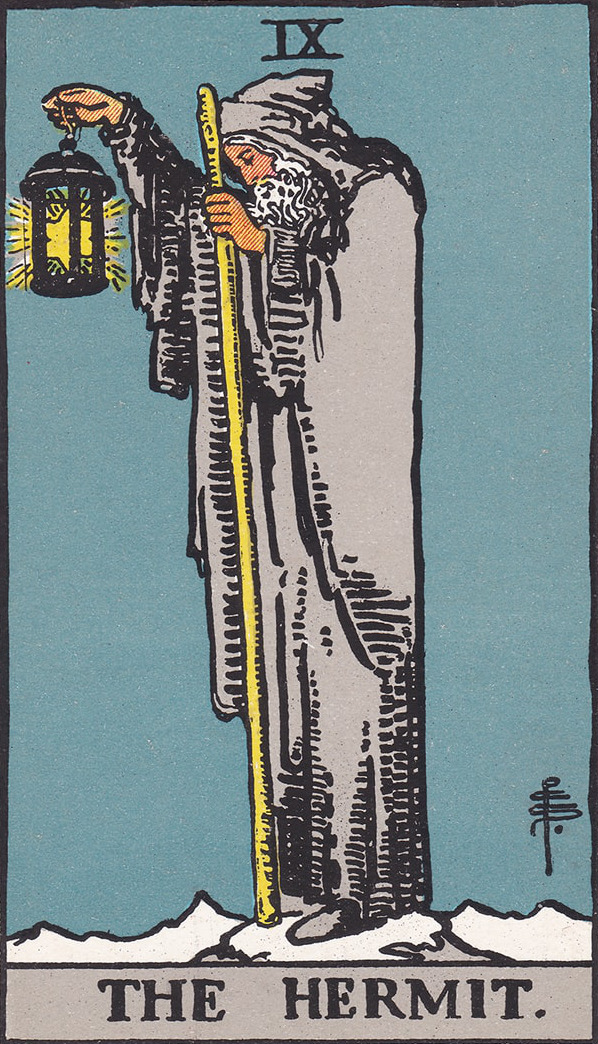 UPRIGHT:
soul-searching, introspection, being alone. inner guidance
being introspective

ontemplation, self-reflection. looking for answers within, focusing inward and thinking things over. a need for clarity.

searching

seeking a greater understanding, looking for the truth, going on a personal quest, desiring a new direction in life.

receiving or giving guidance

being helped or helping someone else as a trusted mentor

seeking solitude

needing to be alone, withdrawing from the world, giving up distractions, retreating into a secluded, private world.
REVERSED:
loneliness, withdrawal, isolation.
disoriented wandering
a fear of being alone.
paranoia, an identity crisis.
fear of having to depend on others
X: THE WHEEL OF FORTUNE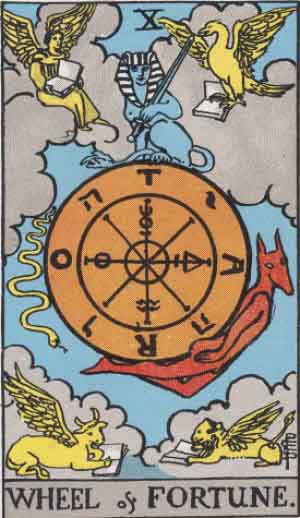 UPRIGHT:
good luck, karma, life cycles
feeling a sense of destiny

sensing the action of fate, finding opportunity in an accident, opening to luck

being at a turning point

moving in a different direction, turning things around. having a change in fortune. a turn of fate.

feeling movement

having the tempo of life change drastically, being swept up in new developments.

having a personal vision

seeing how everything connects, becoming more aware, uncovering patterns and cycles, expanding your outlook, discovering your role and purpose.
REVERSED:
bad luck, negative external forces out of your control.
helplessness
change. chaos, uncertainty.
IX: JUSTICE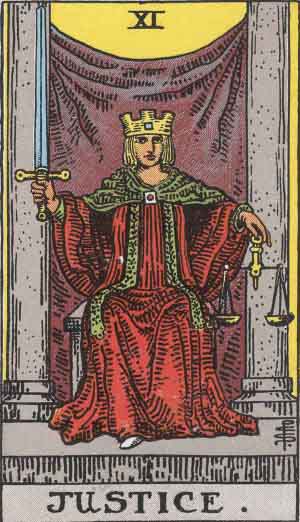 UPRIGHT:
fairness, cause and effect, law
respecting truth and justice

trying to do what is right, committing to honesty. seeking equality and being impartial.

assuming responsibility

settling old accounts and debts, acknowledging the truth, doing what has to be done. balancing of affairs, righting wrongs

preparing for a decision

weighing all sides of an issue, setting a course for the future and balancing all factors. determining the right action with full awareness.

understanding cause and effect

clarity, reaping what you sow, making connections between events.
REVERSED:
dishonesty, unfairness.
a lack of accountability. living in denial
being unwilling to take responsibility
poetic justice
disputes
bigotry, bias, intolerance
XII: THE HANGED MAN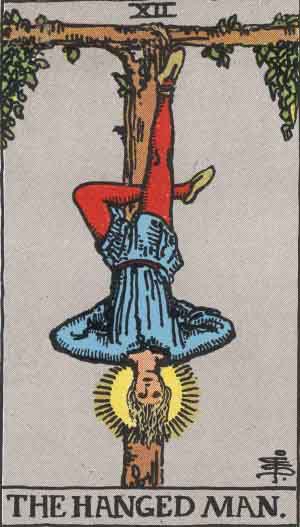 UPRIGHT:
letting go

accepting what is, ending the struggle, being vulnerable and open. giving up control.

reversing the situation

turning the world around, changing your mind, seeing things from a new angle. new perspectives

suspending action

pausing to reflect, living in the moment. taking time to just be and giving up urgency. waiting for the best opportunity.

sacrificing

being a martyr, putting self-interest aside. giving up for a higher cause, or putting others' needs first.
REVERSED:
stalling
martyrdom, indecision and delay.
avoiding sacrifice
not seeing results of hard work
hidden motives or agendas.
XIII: DEATH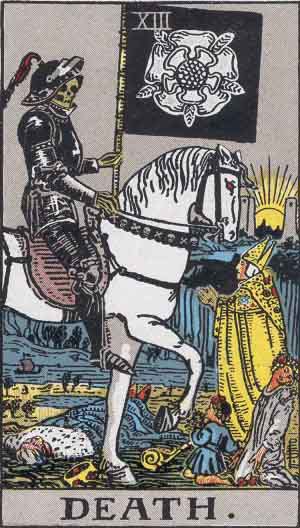 UPRIGHT:
endings and beginnings

closing one door to open another, bringing something to a close. completing a chapter. putting the past behind you. parting ways.
beginning of a new cycle

going through transition

moving from the known to the unknown, being cast adrift, being in the middle.
metamorphosis

eliminating excess

cutting out what isn't necessary, shedding old attitudes, concentrating on the essentials, getting back to the basics.

experiencing forces that can't be controlled

being in the path of sweeping change, going through what cannot be avoided, riding your fate, accepting the inevitable. (Memento Mori)
REVERSED:
stagnation, resisting change. being unable to move on
fighting the passage of time
attempting to avoid an inevitable end.
XIV: TEMPERANCE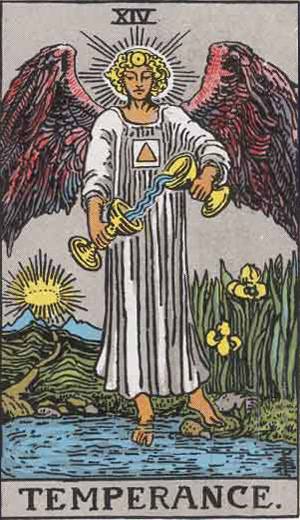 UPRIGHT:
being temperate

finding the middle ground, avoiding excess, reaching a compromise and mitigating a harsh position. offsetting an extreme.
patience
keeping calm

maintaining balance

achieving equilibrium, bringing together opposites. fostering cooperation. recognizing all sides. feeling centered and secure.

experiencing health

renewing energy and vigor, healing. enjoying well-being, recovering and flourishing.

combining forces

gathering together what is needed, joining with others, finding the right mix.
REVERSED:
imbalance and excess.
a lack of long-term vision.
turbulence
being unable to find a middle ground
conflicting ideas and positions.
not cooperating.
emotional extremes
XV: THE DEVIL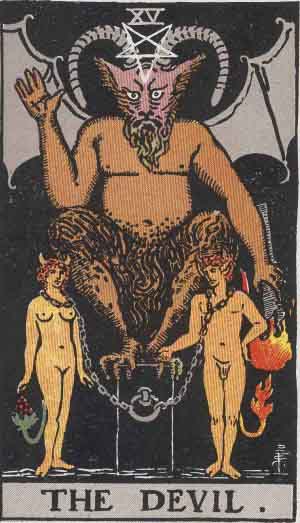 UPRIGHT:
experiencing bondage and addiction

accepting an unwanted situation, being obsessed. feeling tied down against your will. losing independence. allowing yourself to be controlled, or submitting to someone else.

focusing on the material

being caught up in appearances. believing only in the physical, forgetting about the spiritual. overindulging.

staying in ignorance

being unaware, but choosing to stay in the dark. fearing the unknown.

feeling hopeless

believing the worst, despairing. lacking faith. seeing a cold world, and thinking negatively. doubting.
REVERSED:
breaking free and reclaiming power. detaching yourself from your vices.
shaking off debt or addictions
escape, release and forward motion.
taking control of your problems and your life.
XVI: THE TOWER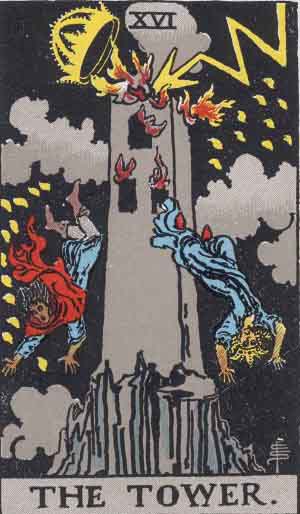 UPRIGHT:
disaster and upheaval
going through a sudden change

experiencing upheaval, undergoing a crisis. having your sense of normalcy disrupted. being in chaos.

releasing

having an emotional outburst, erupting in anger. breaking through pretense, letting everything go.

downfall

being humbled, experiencing a crash. your tower of security being destroyed, and toppling from the heights. suffering a blow to your ego.
a fall from pride

having a revelation

suddenly realizing the truth, exposing what was hidden. having a burst of insight. seeing through illusions.
REVERSED:
avoiding or delaying disaster
fear of suffering and change
putting off necessary pain
setbacks, pressure, stress.
XVII: THE STAR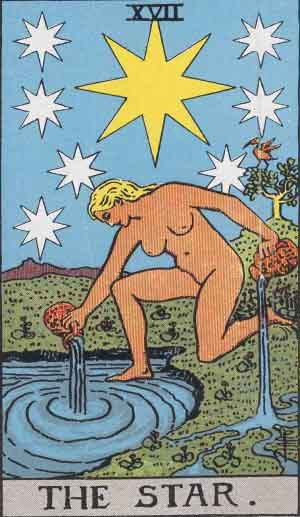 UPRIGHT:
regaining hope

thinking positively; having faith in the future. believing. counting your blessings. seeing the light at the end of the tunnel. looking forward to success.

being inspired.

regaining motivation. realizing an inner strength. creating, and receiving the answer.

being generous

wanting to spread the wealth, opening your heart. giving back what you've received. letting love flow freely and offering with no reservations.

feeling serene

experiencing peace of mind and relaxing. savoring perfect calm. being tranquil and enjoying harmony.
hope after a dark time
REVERSED:
discouragement, despair
loss of hope
persistent negativity
low self esteem and a lack of clarity.
not feeling the love around you.
disappointment, futility.
XVIII: THE MOON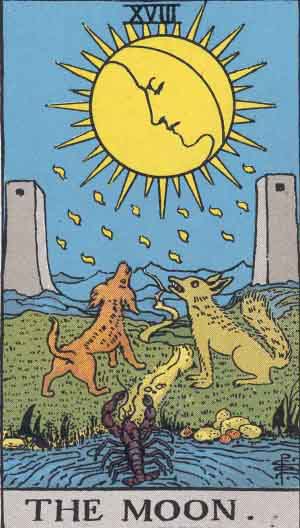 UPRIGHT:
feeling fear

feeling a nameless apprehension, suffering from phobias, lacking courage and being overcome by anxieties.

believing illusions

accepting a false picture and deceiving yourself. having unrealistic ideas or misapprehending the truth. experiencing distortions, chasing after a fantasy.

an overactive imagination

having vivid dreams or visions, being outlandish and bizarre.

feeling bewildered

direction and purpose, having trouble thinking clearly and becoming confused. being easily distracted. feeling disoriented, wandering aimlessly.
REVERSED:
doubt
resistance to anything spiritual.
self delusion.
a closed mind.
release of fear, unhappiness and confusion.
XIX: THE SUN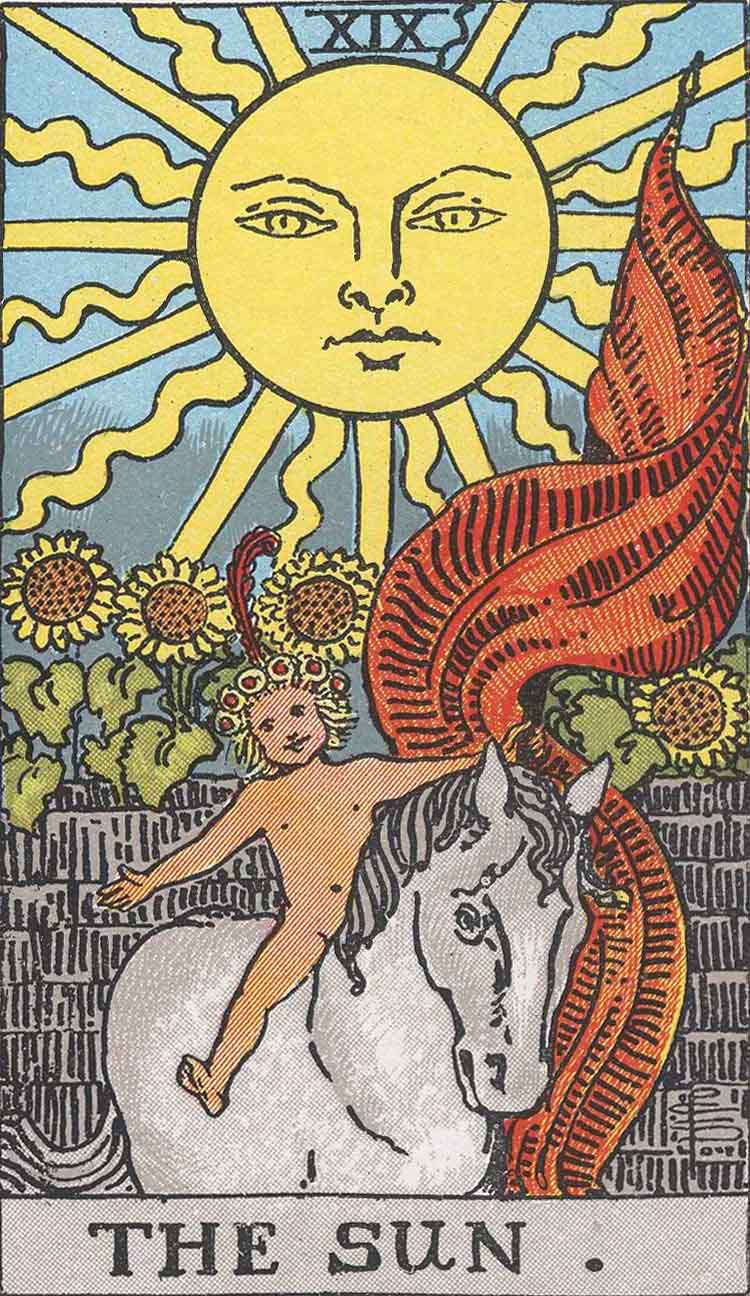 UPRIGHT:
becoming enlightened

finding the sense behind the chaos, understanding. getting to the heart of the matter and realizing the truth.

experiencing greatness

having a personal moment of glory, shining forth brilliantly and becoming the center of attention.

feeling warmth and vitality

becoming radiantly energized, bursting with enthusiasm. experiencing joy. feeling invigorated. enjoying great health.

having assurance

honoring your true self, knowing you can succeed. believing in your worth. forgiving yourself.

the dawn after a dark night
REVERSED:
temporary depression and a lack of success.
inability to see the good things in your life, fixating on the negativity.
XX: JUDGEMENT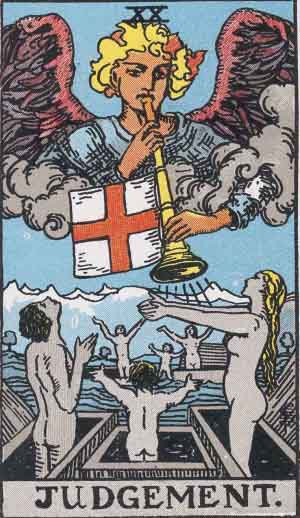 UPRIGHT:
absolution
making a judgment

having a day of reckoning, making an honest appraisal. taking a stand. making hard choices.

a period of reflection
feeling reborn

transforming, awakening to possibilities and enjoying a renewed hope. making a fresh start. seeing everything in a new light and discovering joy. awakening

hearing an inner calling

feeling inner conviction, feeling an impulse to act. deciding to make a difference. feeling drawn in a new direction and knowing what you must do. answering a need.

finding absolution

feeling cleansed and refreshed, releasing guilts and sorrows. forgiving yourself and others. atoning for past mistakes, unburdening yourself.
REVERSED:
self doubt
refusal of self examination
lack of perspective
a skewed self image
problematic transitions. resistance, rejection, alienation.
being overly critical and judgmental.
XXI: THE WORLD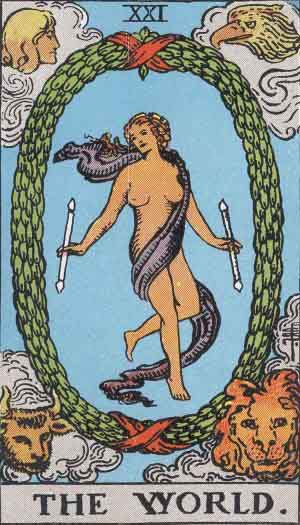 UPRIGHT:
completion, travel
integration

experiencing wholeness, bringing parts together and achieving dynamic balance. working in unison.

accomplishment

realizing your goals, then achieving them. seeing dreams come true. flourishing and finding a beautiful solution.

becoming involved

contributing, rendering a service. using a gift or talent. sharing what you have. feeling engaged and being active.

fulfillment

savoring in the present, taking pleasure in life.

inner and outer peace

getting satisfaction, counting your blessings.
REVERSED:
feeling or being incomplete
a lack of completion or a lack of closure
missing pieces
working toward victory
wanting to move forward, but being held back.
completion of your projects being delayed.